The Artist and the Machine Shop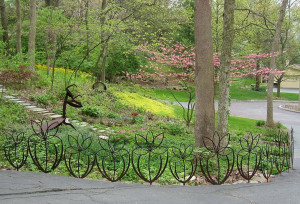 In 2000, avid gardener and artist Diane Sauer realized the possibilities for making trellises and stakes for her garden at the machine shop, run by her husband, Warren Sauer.
Using computer aided design programs and the help of the skilled people at the machine shop, Diane began bringing her ideas to life in the form of simple and elegant trellises, gates, mailbox stands and other decorative art.
In 2001 Diane decided to devote herself to creating decorative metalwork and Trellis Art Designs became a division of L. E. Sauer Machine Co. Only the garden has suffered because of this decision.
That's the history. The continuing story is that we still design and fabricate decorative metalwork one piece at a time here in St. Louis, MO.
Perpetua Iron and Trellis Art Designs collaborating on custom iron work!
Diane is now collaborating with Janet and John at Perpetua Iron on custom iron work such as handrails, gates, fencing, fireplace screens and whatever you desire. Contact either of us.