The Artist and the Machine Shop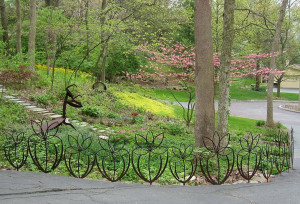 In 2000, avid gardener and artist Diane Sauer realized the possibilities for making trellises and stakes for her garden at the machine shop, run by her husband, Warren Sauer.
Using computer aided design programs and the help of the skilled people at the machine shop, Diane began bringing her ideas to life in the form of simple and elegant trellises, gates, mailbox stands and other decorative art.
Local Art in the Garden, from The Gateway Gardener (July/August, 2011). Editor Robert Weaver writes, under the headline "Fancy Fences, Trellises and More!" – "Through her business Trellis Art Designs, Diane produces some of the area's most beautiful custom-designed gates, fences, trellises, mailbox posts and wall art. Diane creates designs for stock items, and works with clients to create custom-designed items for their gardens and homes."
Perpetua Iron and Trellis Art Designs collaborating on custom iron work!
Diane is now collaborating with Janet and John at Perpetua Iron on custom iron work such as handrails, gates, fencing, fireplace screens and whatever you desire. Contact either of us.